he farm holidays "the Fattora" is situated on rigogliose hills to ciociare in common of Serrone (the Shape)" earth of the Cesanese wine " in province of Frosinone (km. 40). It tos be distant from Rome (km. 80) and Naples (Km.190).

Dipped in the green of the Ernici mounts one extends on an immense territory, from which splendid and evocative landscapes can be admired.

The farm holidays the Fattora is composed from a structure on three plans, to the flat earth finds the laboratory for the working of our products, to the first plan knows it from lunch and kitchen with one spazioso garden, gazebo and carries to us.
The first plan and the garden are equip you of structures for handicaps.

FOR WHO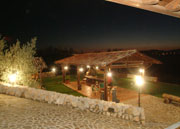 For who it wants to escape from due psycho-physical stress to the city chaotic traffic, from the pollution, from the phrenetic rhythms of the job, that it provokes serious pathological damages. A Vacation to the standard of the relax and the nature, in campaign, in order to admire the greens valleys and to breathe the fine hill air, where the senses can find the freedom. E' one good occasion in order to realize the dream of one distensiva vacation, far away from the crowds, the chaos, to tightened contact with the life peasant, its traditions, its good typical table, its genuine products.

OUR PRODUCTS
Oil extravergine, of rosciola and leccino, ortaggi of season, yields.
Tip of diamond of our products is able the Cesanese wine to offer only organolettiche qualities in its kind, from the sturdy and structured sapore, adapted for red meats and game.
For the lovers of the wine white man we do not forget the gradevole Passerina about the Frusinate.


RELAX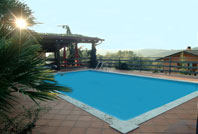 Beyond assuring rest and relax, the farm holidays proposes one splendid swimming pool all?aperto , a circuit for mountain-bike, covered in order to make jogging. But if this enough to little kilometers of distance you will not be able to find: golf to 18 holes, shooting to the piattello, fields from calcetto from tennis, bocce, parapendio, a modern sport center with track for l?atletica to six corsie and olimpionica swimming pool. To short distance for the peach there is the lago of Canterno and for the ski Field Washbowl and Field Stirrups.

MOOR FOTO OF AGRITURISMO LE FATTORA (LAZIO - ITALY)